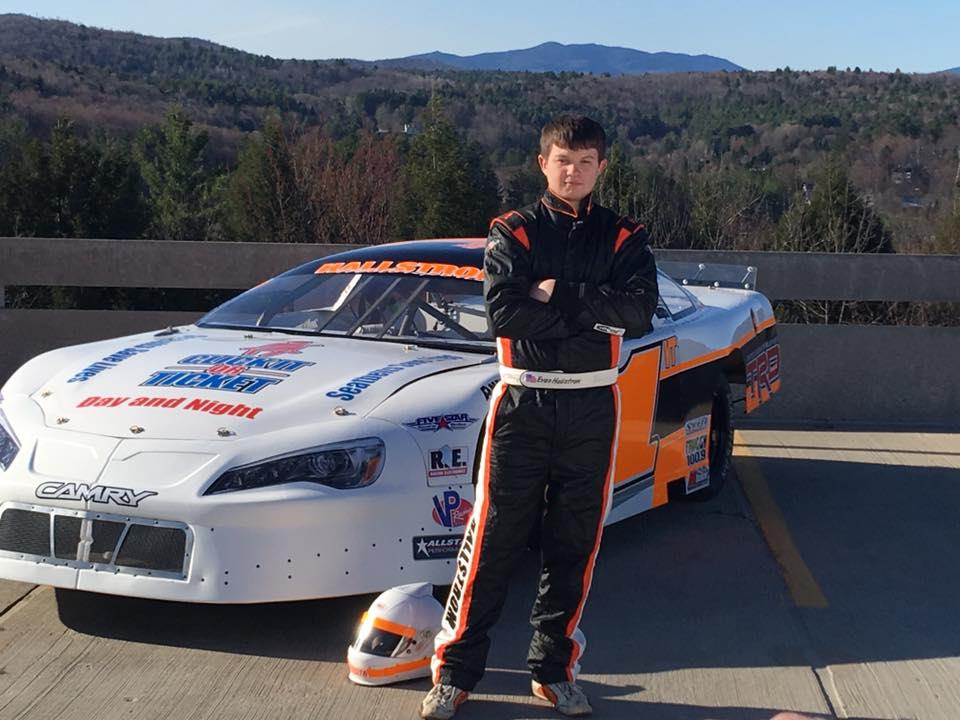 4/20/2017
Inside Line Promotions
---
Hallstrom Motorsports Fielding Asphalt Late Model in 2017
Inside Line Promotions – NORTHFIELD, Vt. (April 20, 2017) – Following a highly successful 2016 season, Evan Hallstrom and Hallstrom Motorsports are excited to announce their advancement into the asphalt late model ranks in 2017.
The 15-year-old, who has been around the sport as his family has owned one of the premier teams in New England for many years, will compete in six asphalt late model events at Devil's Bowl Speedway in West Haven, Vt.
Operating under a NASCAR sanction, Devil's Bowl Speedway is a paved half-mile oval just over an hour and a half from the Hallstrom Motorsports headquarters. The track begins the season in early May and closes out the year in the middle of September.
"The late model division there is competitive, even though there's not a lot of races there," he said. "We're hoping to fill in the schedule wherever else we can, too. We're going to try to get as much seat time as we possibly can and learn the car this year. I'd definitely like to contend for the Rookie of the Year Award as well."
The season kicks off the first weekend of May at the half-mile oval. However, the Hallstrom Motorsports entry is still tentative on its first race of 2017.
"We would also like to give a big thank you to Mike Bruno, the owner of Devil's Bowl Speedway, for allowing younger drivers the opportunity to race at a track like his," Hallstrom said.
Hallstrom is a rising talent in the Northeast. He learned many lessons at the shop and in a different capacity at the track helping his family owned team before transitioning into the driver's seat last year. Hallstrom collected three wins, five runner-up finishes and four additional top-five results last year during his rookie campaign in the Dare Devil division at Speedway 51 in Groveton, N.H.
Further plans for 2017 are taking shape and will be released at a later date.
Additionally, the Hallstrom Motorsports Driver Development Program has a PASS car that will race during the Oxford 250 Aug. 25-27 as well as during a couple other races on the series with drivers to be announced in the future.
MEDIA LINKS –
Website: http://www.Hallstrom-Motorsports.com
Twitter: https://twitter.com/HallstromMotors
Facebook: https://www.facebook.com/hallstrommotorsports
SPONSOR SPOTLIGHT – Randolph Auto Supply
Randolph Auto Supply is an automotive parts business.
"We're glad to have Larry and Randolph Auto Supply back on board with us this year," Hallstrom said. "Larry and his crew have been great to us and it's where we go for all our parts and equipment needs. Plus, they always go above and beyond as their customer service is top notch."
Hallstrom Motorsports would also like to thank Hallstrom Excavating, Vermont Governor's Highway Safety Program, Vermont Safety Alliance, Butler MacMaster, TriStar Racewear, AR Bodies, Swift Springs, Scotty B's Trucking, Depot Square Pizzeria, The Joie of Seating and Froggy 100.9 for their continued support.
INSIDE LINE PROMOTIONS –
Inside Line Promotions specializes in affordable public relations and media management for motor sports drivers, teams, sponsors, tracks, series, events, organizations and manufacturers. ILP Founder Shawn Miller leverages professional journalism with new media technologies and social networking to improve your exposure and the return on investment for your sponsors.
To meet the media relations needs of your program by joining Team ILP, contact Shawn at 541-510-3663 or Shawn@InsideLinePromotions.com. For more information on Inside Line Promotions, visit http://www.InsideLinePromotions.com.
---
Article Credit: Inside Line Promotions
Submitted By: Shawn Miller
Back to News