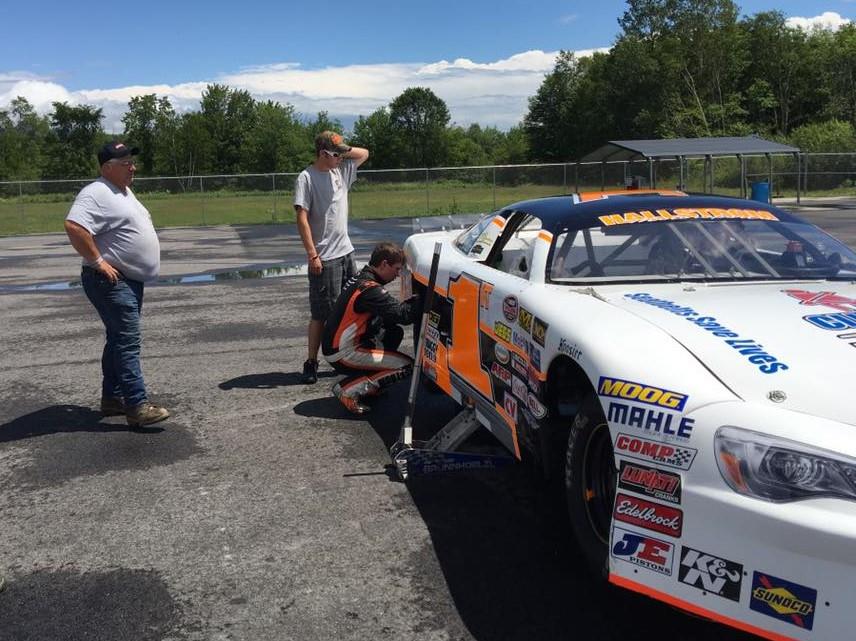 7/11/2017
Inside Line Promotions
---
Hallstrom Charges from 13th to Sixth in Second Start at Devil's Bowl
Inside Line Promotions – WEST HAVEN, Vt. (July 11, 2017) – Evan Hallstrom had an impressive result on June 24 during only his second late model race of the season at Devil's Bowl Speedway.
The Hallstrom Motorsports team made the trip to the paved oval early in the weekend to get additional practice and seat time before the heat and feature race.
"It was a really good weekend for us," Hallstrom said. "We were able to make adjustments in practice and learn from that to add to our notebook moving forward in the season."
Hallstrom finished where he started – sixth – in a heat race before he pulled the lowest pill for feature starting position, which would have lined him up on the pole for the main event. However, Devil's Bowl Speedway's rules state that a rookie must have three starts from the tail of the field before being able to start from their original pill draw. Therefore, he started from the inside of the seventh row.
Hallstrom maneuvered his way to a sixth-place result during the 50-lap race.
"Overall, I think it was definitely a good race." he said. "We were up there battling for position with some of the best late model guys in the area. I think we progressed a lot and gained some very valuable seat time this weekend."
Hallstrom will be back in action at Devil's Bowl Speedway on July 22.
QUICK RESULTS –
June 24 – Devil's Bowl Speedway in West Haven, Vt. – Heat: 6 (6); Feature: 6 (13).
SEASON STATS –
2 races, 0 wins, 0 top five, 2 top 10s, 2 top 15s, 2 top 20s
UP NEXT –
July 22 at Devil's Bowl Speedway in West Haven, Vt.
MEDIA LINKS –
Website: http://www.Hallstrom-Motorsports.com
Twitter: https://twitter.com/HallstromMotors
Facebook: https://www.facebook.com/hallstrommotorsports
SPONSOR SPOTLIGHT – Vermont Safety Alliance
The Vermont Highway Safety Alliance is a network of like-minded private and public organizations working together to collect, share and use data to develop highway safety strategies integrating: road engineering and infrastructure; law enforcement and emergency medical services; and education and outreach.
"Just like the Governor's Highway Safety Program, we're happy to have the Vermont Safety Alliance onboard with us this season as well," Hallstrom said. "Seatbelt safety and highway safety are very important and we're excited that we can be a part of raising awareness for it."
Hallstrom Motorsports would also like to thank Hallstrom Excavating, Vermont Governor's Highway Safety Program, Vermont Safety Alliance, Butler MacMaster, TriStar Racewear, AR Bodies, Swift Springs, Scotty B's Trucking, Depot Square Pizzeria, The Joie of Seating and Froggy 100.9 for their continued support.
INSIDE LINE PROMOTIONS –
Inside Line Promotions specializes in affordable public relations and media management for motor sports drivers, teams, sponsors, tracks, series, events, organizations and manufacturers. ILP Founder Shawn Miller leverages professional journalism with new media technologies and social networking to improve your exposure and the return on investment for your sponsors.
To meet the media relations needs of your program by joining Team ILP, contact Shawn at 541-510-3663 or Shawn@InsideLinePromotions.com. For more information on Inside Line Promotions, visit http://www.InsideLinePromotions.com.
---
Article Credit: Inside Line Promotions
Submitted By: Shawn Miller
Back to News