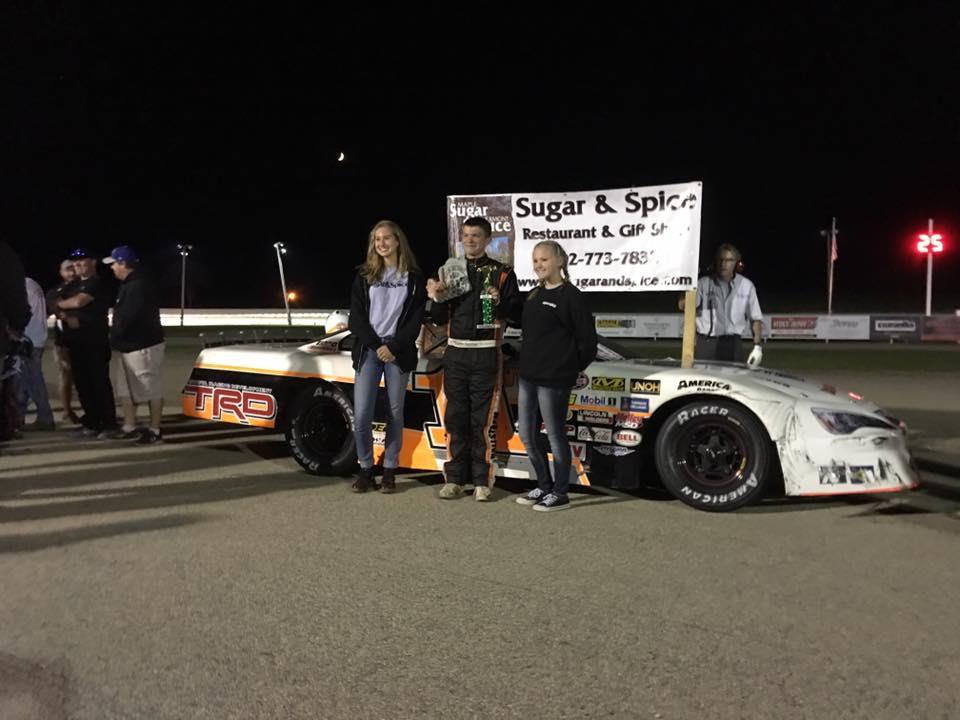 9/6/2017
Inside Line Promotions
---
Hallstrom Earns Rookie of the Year Award and Championship Runner Up at Devil's Bowl Speedway
Inside Line Promotions – WEST HAVEN, Vt. (Sept. 6, 2017) – Evan Hallstrom ended his rookie season strong, earning three more top fives during the final two weekends of the season to capture the Rookie of the Year Award and the runner-up position in the championship standings at Devil's Bowl Speedway.
Two weeks ago Hallstrom and the Hallstrom Motorsports team took to the half-mile asphalt oval for the final points night of the season, which featured two 25-lap feature events.
"We made several good practice laps before the race to get the car dialed in for the night's twin-25 races," he said. "The car was really, really good. We only made a small adjustment before the heat races and feature events."
In the first feature, Hallstrom scored a third-place finish.
"That adjustment made the car a lot better and it continuously got better throughout the rest of the night," he said. "We were going to try to give them another run for their money in the second feature."
Hallstrom backed up his strong result in the opening feature by again placing third in the night's finale, which wrapped up the points season at Devil's Bowl Speedway. Hallstrom was honored as the Rookie of the Year thanks to his second-place finish in points.
"It's a huge personal accomplishment for me," he said. "My crew and I worked hard to be consistent each week, earn respect on the track and get several good laps under the belt. I definitely feel like we did that. I can't thank them enough."
Hallstrom returned to Devil's Bowl Speedway last Saturday for the final race of the season.
"The track was really dirty to start off the night, but once it got cleaned off we had an even better car than we did the previous race," he said. "We were free off in practice so we made an adjustment or two to help settle the car better."
Hallstrom went on to win his heat race, which lined him up on the outside of the front row for the main event. He strategically fell to fourth in order to save his equipment until the end. Hallstrom then worked his way toward the front to finish in the second position.
"If we would have had a few more laps we would have been tasting victory," he said. "We had a really good car and were catching the leader, but just ran out of time."
Hallstrom finished the season with five top-five finishes in eight races.
QUICK RESULTS –
Aug. 26 – Devil's Bowl Speedway in West Haven, Vt. – Feature #1: 3 (3); Feature #2: 3 (3).
Sept. 2 – Devil's Bowl Speedway in West Haven, Vt. – Heat race: 1 (1); Feature: 2 (2).
SEASON STATS –
8 races, 0 wins, 5 top fives, 8 top 10s, 8 top 15s, 8 top 20s
UP NEXT –
TBD
MEDIA LINKS –
Website: http://www.Hallstrom-Motorsports.com
Twitter: https://twitter.com/HallstromMotors
Facebook: https://www.facebook.com/hallstrommotorsports
SPONSOR SPOTLIGHT – The Joie of Seating
Twelve years ago, Randy LaJoie, a two-time Busch Series champion, had an idea that turned into a dream. LaJoie began manufacturing seats for race cars and his company, The Joie of Seating, was started. LaJoie has come up with a stamped, molded aluminum seat that fits 95 percent of a driver's body that he says, "has revolutionized the aluminum seat market."
"The Joie of Seating company has to be one of the best seating companies around," Hallstrom said. "They're all about keeping the racer safe as they're strapped in to their race car. It's very clear that safety is a No. 1 priority to me so I wouldn't want to have any other seat in my race car."
Hallstrom Motorsports would also like to thank Hallstrom Excavating, Vermont Governor's Highway Safety Program, Vermont Highway Safety Alliance, Butler MacMaster, TriStar Racewear, AR Bodies, Swift Springs, Scotty B's Trucking, Depot Square Pizzeria, Design Engineering, Inc., and Classic Ventures for their continued support.
INSIDE LINE PROMOTIONS –
Inside Line Promotions specializes in affordable public relations and media management for motor sports drivers, teams, sponsors, tracks, series, events, organizations and manufacturers. ILP Founder Shawn Miller leverages professional journalism with new media technologies and social networking to improve your exposure and the return on investment for your sponsors.
To meet the media relations needs of your program by joining Team ILP, contact Shawn at 541-510-3663 or Shawn@InsideLinePromotions.com. For more information on Inside Line Promotions, visit http://www.InsideLinePromotions.com.
---
Article Credit: Inside Line Promotions
Submitted By: Shawn Miller
Back to News