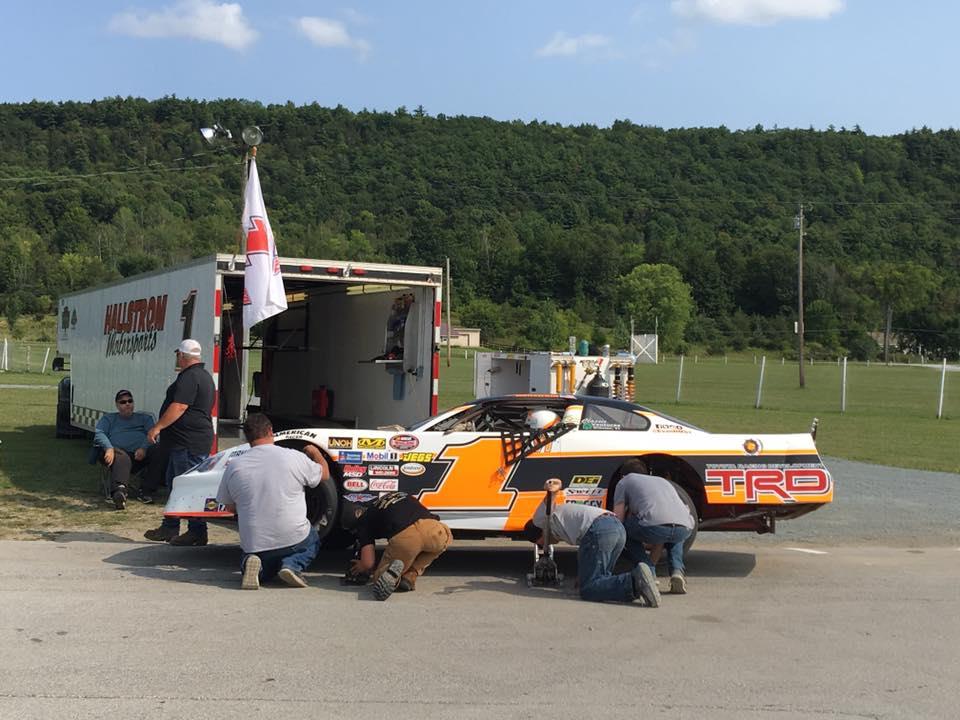 11/21/2017
Inside Line Promotions
---
Hallstrom Driver Development Program Offers Unique Opportunity in Northeast
Inside Line Promotions – NORTHFIELD, Vt. (Nov. 21, 2017) – The Hallstrom Driver Development Program is like no other. Its dedication to up-and-coming drivers, passion for the sport and family ties is what sets it apart from the rest.
The owners, Louis and Lisa Hallstrom, have been heavily involved in the motor sports industry for several decades. Louis Hallstrom served as a crew member on a race team for more than 30 years before he and his wife branched off to start their family owned race team. A few years later, they created a one-of-a-kind driver development program in the Northeast.
"As the years went by, we were watching what was happening to racing in the Northeast," Lisa Hallstrom said. "At our local short tracks and even on the touring series, what they considered to be the younger generation of drivers were drivers in their early 20s. Then the next generation of drivers would be in their 30s. It's like they had missed a full generation of young, up-and-coming talent. It was then that we had decided to start this program in order to help an even younger generation of talented drivers have the opportunity they deserved and carry them through the motor sports ranks."
In the Northeast asphalt late model racing opportunities are few and far between for many young drivers. The Hallstrom Driver Development Program offers two different options drivers can choose from.
"Once drivers in the Northeast have worked their way through the division ranks, they almost have no other option but to move down south, where asphalt racing is prominent and there are a multitude of opportunities, or continue to race locally and never really get the chance to showcase their talent on a larger platform," Lisa Hallstrom said. "With our program we wanted to give these drivers the opportunity to jump in a full-body race car and continue forward with their dreams. We offer a late model package and a super late model package, which we allow drivers to compete in the American-Canadian Tour or the PASS North Series."
Hallstrom Driver Development has been offering developmental opportunities for almost four years now, proving to be successful as drivers progress into the next steps of their careers.
"We really value the program that we offer and want others to do the same," Lisa Hallstrom said. "We want to have drivers who fit our goals as a team and business and who feel we fit their goals as a driver. We strive to have drivers who are passionate about their careers and racing and want to challenge themselves to be the best driver that they can be."
The program focuses on developing communication skills, team building skills and driver one on one, along with other valuable assets drivers can apply toward the rest of their career.
"Not only do we want to work on the driver's skillset on the track, we want to work with them on communication, such as communicating on how the car feels, how the track is changing and what they think may need to be adjusted," Louis Hallstrom said. "That leads into communicating with the team, talking with the crew chief about adjustments and relaying that information to the team so they can make a game plan of adjustments on the car as well as getting used to constantly listening and learning from a spotter who is always communicating. Drivers also get one-on-one coaching from past drivers of the program who have succeeded and are willing to help us bring young talent through the ranks as well."
The Hallstrom Driver Development Program is not just a normal, run-of-the-mill kind of program. When drivers come on board, they become a part of the Hallstrom family.
"Racing is easily one of the best industries to be in," Lisa Hallstrom said. "Not only is it a sport, but it's one big family. We spend almost every weekend with the drivers and their families that come through the program so it's like they're signing up to become a part of our family, too. We care about them, we push and encourage them, and we want to see them succeed as much as the next person."
Devin O'Connell moved up to stock cars as a Hallstrom Driver Development driver in 2016, when he competed in the American-Canadian Tour in the Northeast. He captured three top 10s and seven top 15s en route to a 12th-place finish in the championship standings. O'Connell was also presented with the American-Canadian Tour Rookie of the Year Award.
Louis and Lisa Hallstrom's son, Evan, advanced into stock cars in 2017 and he guided the Hallstrom Driver Development team to five top fives in eight races at Devil's Bowl Speedway in West Haven, Vt., where he garnered the Rookie of the Year Award and the runner-up position in the championship standings.
In 2018, Evan Hallstrom will be behind the wheel as one of the development drivers in a late model and for PASS car testing. However, the PASS car seat is open for applications for the program. The program is also offering test dates and track time in North Carolina in a late model. The 2018 summer and winter test dates will be announced at a later date.
MEDIA LINKS –
Website: http://www.Hallstrom-Motorsports.com
Twitter: https://twitter.com/HallstromMotors
Facebook: https://www.facebook.com/hallstrommotorsports
SPONSOR SPOTLIGHT – Vermont Safety Alliance
The Vermont Highway Safety Alliance is a network of like-minded private and public organizations working together to collect, share and use data to develop highway safety strategies integrating: road engineering and infrastructure; law enforcement and emergency medical services; and education and outreach.
"Just like the Governor's Highway Safety Program, we're happy to have the Vermont Safety Alliance onboard with us this season as well," Hallstrom said. "Seatbelt safety and highway safety are very important and we're excited that we can be a part of raising awareness for it."
Hallstrom Motorsports would also like to thank Hallstrom Excavating, Vermont Governor's Highway Safety Program, Vermont Safety Alliance, Butler MacMaster, TriStar Racewear, AR Bodies, Swift Springs, Scotty B's Trucking, Depot Square Pizzeria, The Joie of Seating and Froggy 100.9 for their continued support.
INSIDE LINE PROMOTIONS –
Inside Line Promotions specializes in affordable public relations and media management for motor sports drivers, teams, sponsors, tracks, series, events, organizations and manufacturers. ILP Founder Shawn Miller leverages professional journalism with new media technologies and social networking to improve your exposure and the return on investment for your sponsors.
To meet the media relations needs of your program by joining Team ILP, contact Shawn at 541-510-3663 or Shawn@InsideLinePromotions.com. For more information on Inside Line Promotions, visit http://www.InsideLinePromotions.com.
---
Article Credit: Inside Line Promotions
Submitted By: Shawn Miller
Back to News