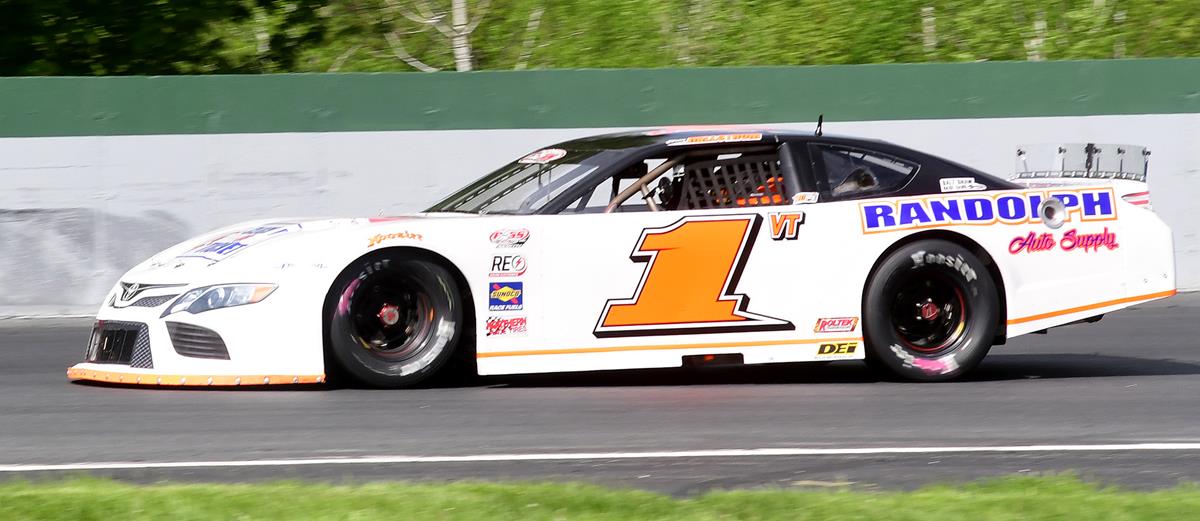 6/5/2020
Inside Line Promotions
---
Hallstrom Starting 2020 Season Sunday at White Mountain Motorsports Park
(Photo by Norm Marx)
Inside Line Promotions – NORTHFIELD, Vt. (June 5, 2020) – Evan Hallstrom will finally climb behind the wheel of his late model this weekend following an extended offseason.
The Hallstrom Motorsports driver is heading to White Mountain Motorsports Park in North Woodstock, N.H., for a Pro All Star Series North race on Sunday.
"We've done a ton of stuff over the offseason," he said. "We stripped the car and redid everything. Obviously we want to be super competitive and lighten the car up any way we can, whether it's a couple rivets or a few pounds. Plus, you want to make your program better each year and gain knowledge and I think that we have done that."
Hallstrom competed at White Mountain Motorsports Park a pair of times last year.
"We're definitely looking for a better outcome this time," he said. "We had a flat tire once, which robbed us of a good finish, and just had a smaller motor the next time."
Hallstrom was credited with a 13th-place result on July 20, 2019, and he finished 20th on Sept. 21, 2019.
"We did some testing the other day at Thunder Road and the car felt pretty good," he said. "It was pretty drivable and seemed like a good car for the weekend. We just need some luck on our side this time."
UP NEXT –
Sunday at White Mountain Motorsports Park in North Woodstock, N.H., with the Pro All Star Series North
MEDIA LINKS –
Website: http://www.EvanHallstromRacing.com
Twitter: https://twitter.com/EvanHms
Facebook: https://www.facebook.com/EvanHallstromRacing/
Instagram: https://www.instagram.com/evanhms1/
SPONSOR SPOTLIGHT – Schaeffer Oil
Schaeffer's Specialized Lubricants – synthetic motor oils, hydraulic fluids and diesel fuel additives – have achieved a world-class reputation for improving engine performance and fuel economy. Its diverse product line includes all types of industrial lubricants, industrial greases and industrial oils as well as specialty items like our chain lubes and degreasers. For more information, visit https://www.schaefferoil.com/.
"Schaeffer Oil is something that we use in our daily lives, whether it's racing or with the excavating business, so we're happy to have them on-board," Hallstrom said. "They had a racing program and we were proud to be selected to represent the company."
Hallstrom Motorsports would also like to thank Mid-State Dodge, Gendron Building, Vermont Governor's Highway Safety Program, Vermont Highway Safety Administration, TriStar Racewear, Quarter Master, Swift Springs, Design Engineering, Inc., and Waterbury Laundromat for their continued support.
INSIDE LINE PROMOTIONS –
Inside Line Promotions specializes in affordable public relations and media management for motor sports drivers, teams, sponsors, tracks, series, events, organizations and manufacturers. ILP Founder Shawn Miller leverages professional journalism with new media technologies and social networking to improve your exposure and the return on investment for your sponsors.
To meet the media relations needs of your program by joining Team ILP, contact Shawn at 541-510-3663 or Shawn@InsideLinePromotions.com. For more information on Inside Line Promotions, visit http://www.InsideLinePromotions.com.
---
Article Credit: Inside Line Promotions
Submitted By: Shawn Miller
Back to News