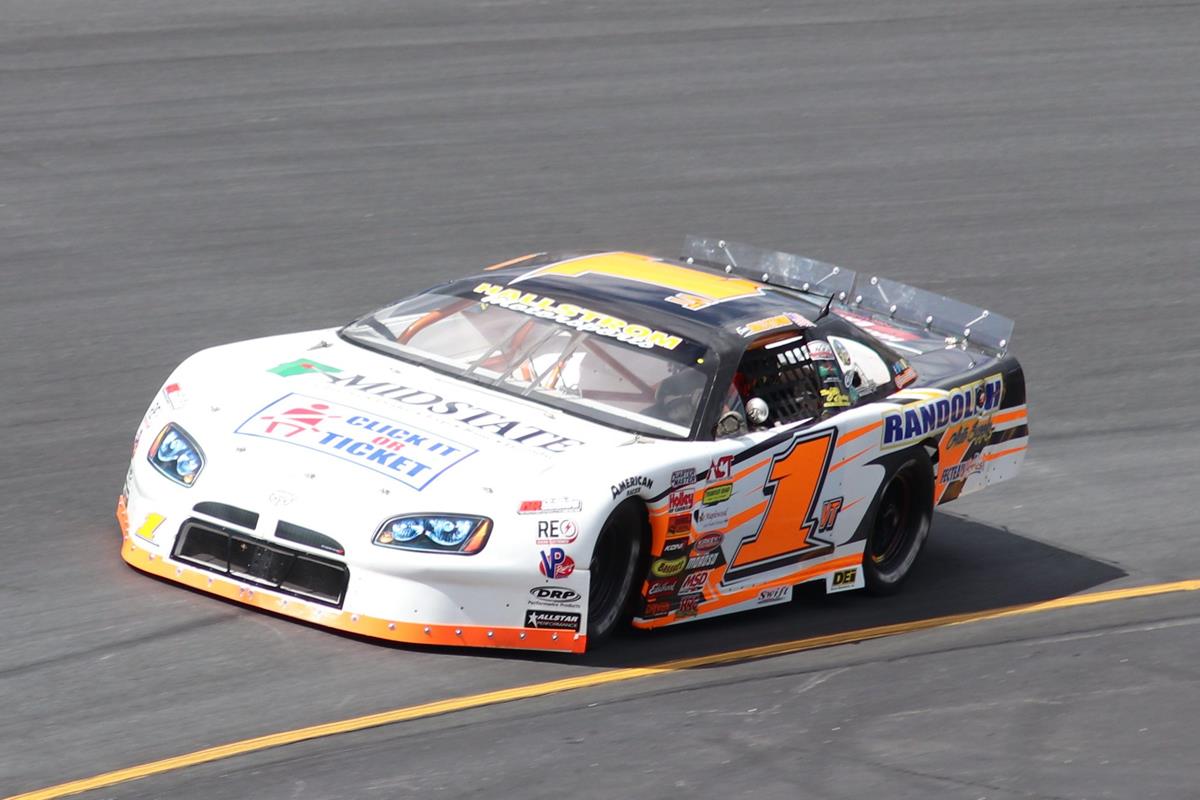 5/11/2018
Inside Line Promotions
---
Hallstrom Learns Throughout American Canadian Tour Debut at Thunder Road
(Photo courtesy of Hallstrom Motorsports)
Inside Line Promotions – BARRE, Vt. (May 11, 2018) – Evan Hallstrom had a productive outing last weekend during his American Canadian Tour debut at Thunder Road International Speedbowl.
"We had a pretty strong car in practice on Saturday," he said. "We ended up eighth quickest in the final practice, which I think set us up well for the feature on Sunday."
The Hallstrom Motorsports driver drew the No. 13 pill to start on the inside of the fourth row in a heat race at the asphalt oval.
"We followed the guy that was in front of us and made our way through the field," Hallstrom said. "He kept making holes and we followed through and filled them. Pretty soon we had made it up to fourth and that was enough to transfer us into the feature."
The American Canadian Tour has a plus/minus system and Hallstrom was on the positive side of that after earning three spots, which started him on the inside of the third row for the 150-lap feature.
"We took the green flag and made it to Lap 2 before the rain began to fall, but we had already made our way up to third," he said. "After about an hour or so we strapped back in and were ready to go racing on a green race track. We fell back to fourth and maintained there for a good majority of the race. On a restart, I kind of wheel hopped a guy. We were coming off the corner and everybody checked up and we had nowhere to go so I made contact with another competitor, which sent him spinning. Not long after, he retaliated and that put a damper on our night."
Hallstrom had a tire going down after the on-track incident. He lost a lap on pit road and was not able to rebound as he was credited with a 19th-place finish.
"We're taking this weekend as a learning experience," Hallstrom said. "I'm taking my mistakes that I made and making it a way to learn for the next time. Last year we raced and tried to earn and give respect to the other competitors. Now it's time to race and learn and see what we can take away from it experience-wise."
Hallstrom's next race on the schedule is May 27 at his home track of Thunder Road International Speedbowl during the 56th annual Mekkelsen RV Memorial Day Classic.
QUICK RESULTS –
May 6 – Thunder Road International Speedbowl in Barre, Vt. – Heat race: 4 (7); Feature: 19 (5).
SEASON STATS –
1 race, 0 wins, 0 top fives, 0 top 10s, 0 top 15s, 1 top 20
UP NEXT –
May 27 at Thunder Road International Speedbowl in Barre, Vt., for the 56th annual Mekkelsen RV Memorial Day Classic
SPONSOR SPOTLIGHT – Randolph Auto Supply
Randolph Auto Supply is an automotive parts business located in Randolph, Vt. For more information, visit https://www.facebook.com/RandolphAuto/.
"We're glad to have Larry and Randolph Auto Supply back on board with us this year," Hallstrom said. "Larry and his crew have been great to us and it's where we go for all our parts and equipment needs. Plus, they always go above and beyond as their customer service is top notch."
Hallstrom Motorsports would also like to thank Hallstrom Excavating, Midstate Dodge, Vermont Governor's Highway Safety Program, Vermont Highway Safety Alliance, Fecteau Homes, Butler MacMaster, TriStar Racewear, AR Bodies, Swift Springs, Depot Square Pizzeria, The Joie of Seating, Design Engineering, Inc., Waterbury Laundromat and Quartermaster for their continued support.
INSIDE LINE PROMOTIONS –
Inside Line Promotions specializes in affordable public relations and media management for motor sports drivers, teams, sponsors, tracks, series, events, organizations and manufacturers. ILP Founder Shawn Miller leverages professional journalism with new media technologies and social networking to improve your exposure and the return on investment for your sponsors.
To meet the media relations needs of your program by joining Team ILP, contact Shawn at 541-510-3663 or Shawn@InsideLinePromotions.com. For more information on Inside Line Promotions, visit http://www.InsideLinePromotions.com.
---
Article Credit: Inside Line Promotions
Submitted By: Shawn Miller
Back to News