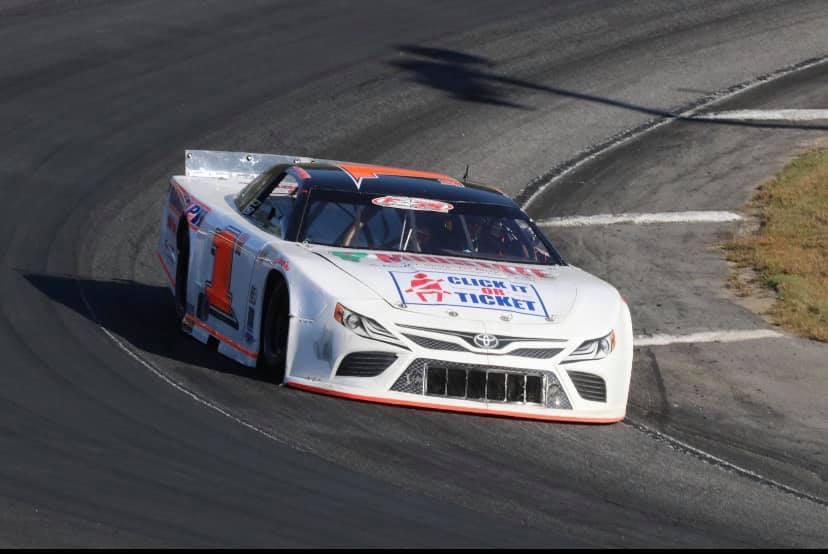 9/27/2019
Inside Line Promotions
---
Hallstrom Shows Speed During PASS North Event at White Mountain Motorsports Park
(Photo by Mark Alan Sumner)
Inside Line Promotions – NORTH WOODSTOCK, N.H. (Sept. 27, 2019) – Evan Hallstrom returned to action at White Mountain Motorsports Park last Saturday during a Pro All Stars Series North event.
"White Mountain Motorsports Park is a fun place to race at," he said. "We had a solid run in our debut there in July and finished 13th so we had some notes to go off of last weekend."
The Hallstrom Motorsports driver started on the inside of the fourth row in a heat race. He picked off a trio of positions to finish fourth in the third heat.
"We gained speed as the day went on," he said. "We rolled off the trailer with some speed and continued to make adjustments to make more speed through practice and even the heat race."
The heat race performance lined Hallstrom up on the inside of the ninth row for the feature. He was making his way through the field before spinning to avoid a racing incident and sustaining damage. Hallstrom was able to continue and restarted in the 11th position. He maintained his position before he felt a tire starting to go down. Under caution, Hallstrom pitted and his team changed the flat tire, but he was unable to make it back on the track in time. The team decided to park the race car for the remainder of the race to save equipment. Hallstrom was credited with a 20th-place result.
"We were happy with the speed we had this weekend; we just struck some bad luck," he said. "We were able to gain more experience at White Mountain for our next trip there and prepare for Thunder Road next weekend."
Hallstrom's next PASS North race will be at Thunder Road International Speedbowl in Barre, Vt., this Saturday.
QUICK RESULTS –
Sept. 21 – White Mountain Motorsports Park in North Woodstock, N.H. – Heat race: 4 (7); Feature: 20 (17).
SEASON STATS –
7 races, 0 wins, 0 top fives, 2 top 10s, 5 top 15s, 6 top 20s
UP NEXT –
Saturday at Thunder Road International Speedbowl in Barre, Vt., with the PASS North Series
MEDIA LINKS –
Website: http://www.EvanHallstromRacing.com
Twitter: https://twitter.com/EvanHms
Facebook: https://www.facebook.com/EvanHallstromRacing/
Instagram: https://www.instagram.com/evanhms1/
SPONSOR SPOTLIGHT – Mid-State Dodge
Midstate Dodge is a local car dealership in central Vermont that provides auto repairs, Chrysler, Jeep, Dodge and RAM parts, and auto-financing for new or used cars. Not only do we offer an awesome array of excellent new Chrysler, Dodge, Jeep, RAM models on location, but we also have a huge inventory of used cars at our dealership as well. Once you're an owner, Midstate Dodge is still here to help you have the best experience possible. Our customers love our on-site car service and maintenance staff and department, where highly trained technicians use the best equipment and only certified Chrysler, Dodge, Jeep, RAM parts on your car, keeping your model running smoothly and reliably for years to come. For more information, visit https://www.midstatedodge.net/.
"We're very excited about this partnership with Midstate Dodge and I think it is the beginning of a great relationship," Hallstrom said. "We're enjoying representing and working with one of the quality local car dealerships in Central Vermont."
Hallstrom Motorsports would also like to thank Hallstrom Excavating, Gendron Building, Vermont Governor's Highway Safety Program, Vermont Highway Safety Alliance, Randolph Auto Supply, Quarter Master, RolTek Transmissions, T. Demas Builders, TriStar Racewear, Swift Springs, Design Engineering, Inc., and Waterbury Laundromat for their continued support.
INSIDE LINE PROMOTIONS –
Inside Line Promotions specializes in affordable public relations and media management for motor sports drivers, teams, sponsors, tracks, series, events, organizations and manufacturers. ILP Founder Shawn Miller leverages professional journalism with new media technologies and social networking to improve your exposure and the return on investment for your sponsors.
To meet the media relations needs of your program by joining Team ILP, contact Shawn at 541-510-3663 or Shawn@InsideLinePromotions.com. For more information on Inside Line Promotions, visit http://www.InsideLinePromotions.com.
---
Article Credit: Inside Line Promotions
Submitted By: Shawn Miller
Back to News