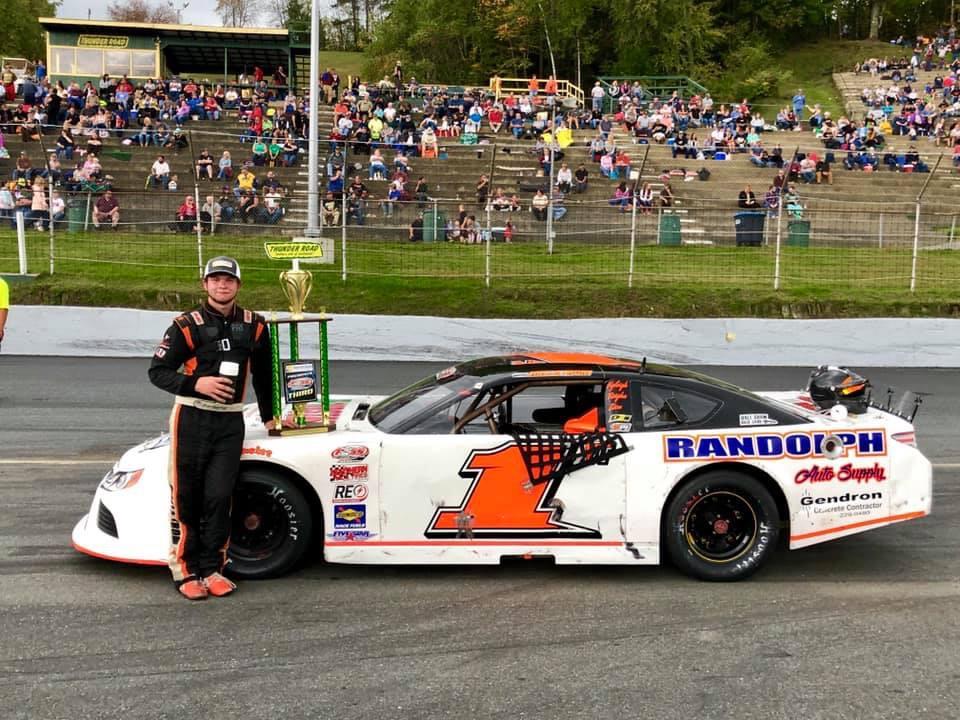 10/4/2019
Inside Line Promotions
---
Hallstrom Flexes Muscles for Podium Finish During Prelude to the Milk Bowl
(Photo by Alan Ward)
Inside Line Promotions – BARRE, Vt. (Oct. 4, 2019) – Evan Hallstrom flexed his muscles and scored a podium result last Saturday during the Prelude to the Milk Bowl at his home track of Thunder Road International Speedbowl.
Hallstrom kicked off the Pro All Stars Series North weekend on Friday with a full day of practice. He unloaded with decent speed and felt that he had a pretty good race car for Saturday's race day. Hallstrom and the team elected to park the car and sit out the third-and-final practice session of the day.
On Saturday Hallstrom carried that same speed through practice, which put him second quickest on the speed charts. He started where he finished in a heat race –fifth. That lined him up from the inside of the fourth row for the 150-lap feature.
"We rolled off the trailer with a decent car," he said. "We started out with no new tires for practice and still held our own and carried some speed throughout the first two practice sessions. I thought the car was good enough for Saturday so we loaded back up and just watched the final practice. It was good to feel like we had a good enough piece to be able to do that and hopefully have a solid weekend at our home track.
"On Saturday we put a fresher set of tires on for practice before the heats and feature to see what we could do with that. We still had the speed and ended up second on the speed charts, which was promising. We really couldn't go anywhere in the heat race though. I tried to jump to the outside, but the outside groove just wasn't ready yet so I fell back in line and just saved the car for the feature."
Hallstrom was patient during the feature as he rode for the early portion of the 150-lap event, which worked in his favor. One by one, he started picking competitors off to advance his position. Again, he tried the high groove to see if he could make up any ground. However, he chose to fall back in line. Hallstrom drove past five-time PASS North winner, Derek Griffith, and set his sights on the leaders. Once the checkered flag flew, Hallstrom brought home a season-best third-place result.
"We had really good long-run speed and were putting down faster lap times for a little bit, which was what we needed because the race basically went green," he said. "I thought I blistered my tires earlier than what I did so I had to pick up a different driving style and the car still really liked it so we were able to hang with those top guys. It was really fun to be able to run with those top-tier guys. Being able to just drive by Derek Griffith, knowing we were on the same playing field with blistered tires, was my win and confidence boost for the weekend and on top of that we got a podium finish."
Hallstrom's next race will be at Oxford-Plains Speedway in Oxford, Maine, with the Pro All Stars Series North on Oct. 19.
"For Oxford, you have to be 110 to 120 percent prepared just because anybody can show up there on any given day and be really good," he said. "We're putting a lot of time into preparing the race car for that weekend and hoping to come out with a really good finish."
QUICK RESULTS –
Sept. 28 – Thunder Road International Speedbowl in Barre, Vt. – Heat race: 5 (5); Feature: 3 (7).
SEASON STATS –
8 races, 0 wins, 1 top five, 3 top 10s, 6 top 15s, 7 top 20s
UP NEXT –
Oct. 19 at Oxford-Plains Speedway in Oxford, Maine, with the PASS North Series
MEDIA LINKS –
Website: http://www.EvanHallstromRacing.com
Twitter: https://twitter.com/EvanHms
Facebook: https://www.facebook.com/EvanHallstromRacing/
Instagram: https://www.instagram.com/evanhms1/
SPONSOR SPOTLIGHT – Hallstrom Excavating
Hallstrom Excavating is a locally owned family excavation business based in Northfield, Vt. The company's experience and skilled contractors ensure every project gets done right the first time. For more information, visit http://www.HallstromExcavating.com.
"Hallstrom Excavating is a huge part of my life and the race team," Hallstrom said. "I am grateful for the support of everyone at Hallstrom Excavating and the opportunity they provide me by backing our race team."
Hallstrom Motorsports would also like to thank Mid-State Dodge, Gendron Building, Vermont Governor's Highway Safety Program, Vermont Highway Safety Alliance, Randolph Auto Supply, Quarter Master, RolTek Transmissions, T. Demas Builders, TriStar Racewear, Swift Springs, Design Engineering, Inc., and Waterbury Laundromat for their continued support.
INSIDE LINE PROMOTIONS –
Inside Line Promotions specializes in affordable public relations and media management for motor sports drivers, teams, sponsors, tracks, series, events, organizations and manufacturers. ILP Founder Shawn Miller leverages professional journalism with new media technologies and social networking to improve your exposure and the return on investment for your sponsors.
To meet the media relations needs of your program by joining Team ILP, contact Shawn at 541-510-3663 or Shawn@InsideLinePromotions.com. For more information on Inside Line Promotions, visit http://www.InsideLinePromotions.com.
---
Article Credit: Inside Line Promotions
Submitted By: Shawn Miller
Back to News