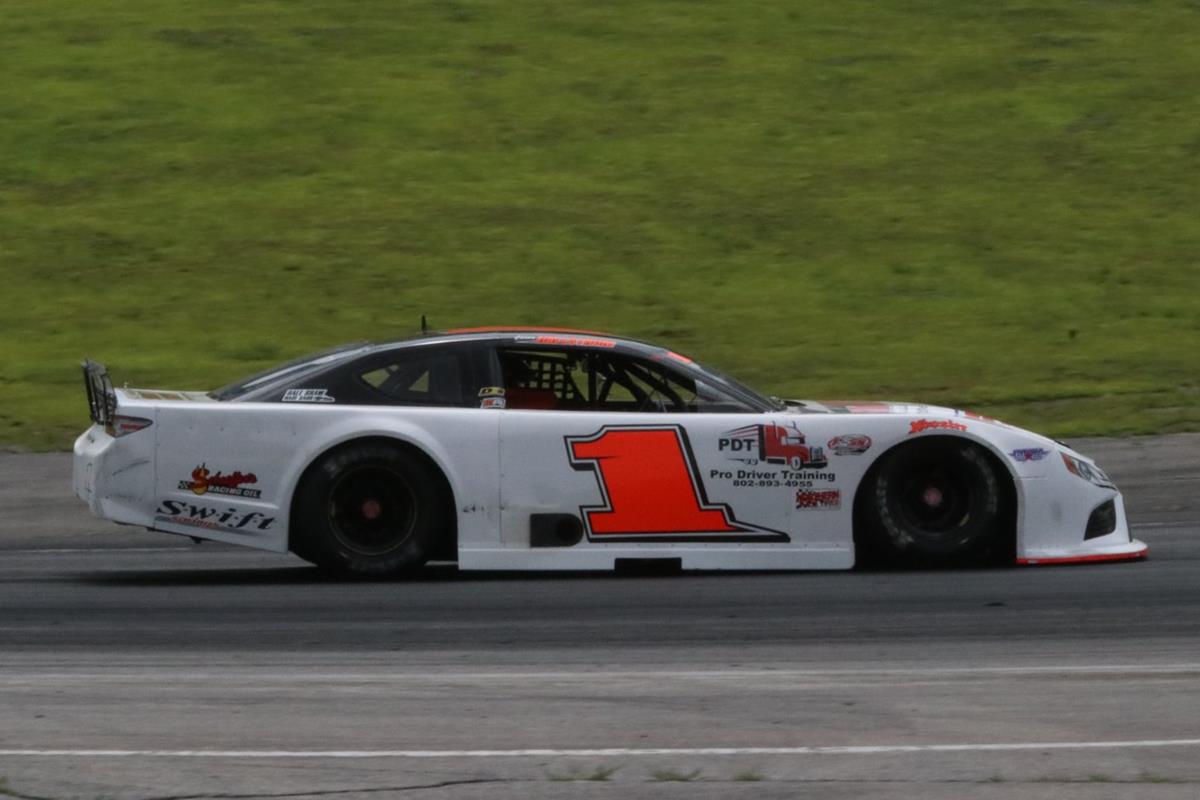 8/19/2020
Inside Line Promotions
---
Hallstrom Hustles to Top-15 Result at Oxford Plains Speedway
(Photo by Mark Alan Sumner)
Inside Line Promotions – OXFORD, Maine (Aug. 19, 2020) – Evan Hallstrom made huge gains last Sunday during the Honey Badger Bar and Grill 150 hosted by Oxford Plains Speedway.
The Hallstrom Motorsports driver made the trip to the pavement oval for the Pro All-Stars Series North event in which he scored his season-best result of 14th.
"This weekend went really well," he said. "We started the season out and it was pretty tough. We made a lot of changes as far as upgrading the car and making it a better piece all around and now our luck finally turned around."
The competition was stout on Sunday with 30-plus competitors. Hallstrom struggled throughout practice trying to make the right changes. In the heat race, he started from the outside of the third row and fell back to finish eighth.
"We got shuffled back in the heat race," he said. "The car just didn't have the speed it needed, but it was handling good. I fell back and just rode out the rest of the heat race so we could come in and make adjustments for the consolation race."
Hallstrom started from the outside of the fifth row in the consolation race. The top six transferred into the 150-lap feature. At the drop of the green flag, Hallstrom moved to the highest racing groove and started picking off cars one by one. He climbed to fourth before the checkered flag was waved to earn a transfer into the back of the main event.
Making the same high groove of the race track work in the feature, Hallstrom began moving forward from his 28th starting spot right away. He was as high as eighth before ending 14th.
"We had a good piece for the feature," he said. "We just went back to the basics for the setup and went from there, almost like a reset. We struggled to find speed all day, but the car was handling good so we had to give a little of the handling up to pick up more speed for the feature. Luckily, there were four racing grooves out there, which is so unique and fun, especially for Oxford. That was the first time I've seen the track change lap after lap like it did. We ran that same fourth groove as we did in the consolation race and it paid off for us. It was a good race for us and I'm sure that it was a good race for the fans watching.
"I just have to thank my team for all the work they put in. We're just having fun at this point and we have a small team that puts in hours of their time and hard work. It's an experience every time that we roll into a race track. We're just trying to put it all together and grow as a racing team."
QUICK RESULTS –
Aug. 16 – Oxford Plains Speedway in Oxford, Maine – Heat race: 8 (6); B Main: 4 (10); Feature: 14 (28).
SEASON STATS –
2 race, 0 wins, 0 top fives, 0 top 10s, 1 top 15, 1 top 20
UP NEXT –
TBD
MEDIA LINKS –
Website: http://www.EvanHallstromRacing.com
Twitter: https://twitter.com/EvanHms
Facebook: https://www.facebook.com/EvanHallstromRacing/
Instagram: https://www.instagram.com/evanhms1/
SPONSOR SPOTLIGHT – Pro Driver Training
The Pro Driver Training program is designed to prepare you for success. Through a combination of lab, behind the wheel and classroom training you will gain the knowledge, confidence and experience to start your rewarding career as a professional truck driver. For more information, visit http://prodrivercdl.com/.
"Pro Driver Training is a CDL training course that we have partnered with and it's personally where I did my training to get my CDL license," Hallstrom said. "With what our business does with excavating and racing, it just made sense to partner with Pro Driver. They're great people to work with and very professional."
Hallstrom Motorsports would also like to thank Mid-State Dodge, Schaeffer Oil, Gendron Building, Vermont Governor's Highway Safety Program, Vermont Highway Safety Administration, TriStar Racewear, Quarter Master, Swift Springs, Design Engineering, Inc., and Waterbury Laundromat for their continued support.
INSIDE LINE PROMOTIONS –
Inside Line Promotions specializes in affordable public relations and media management for motor sports drivers, teams, sponsors, tracks, series, events, organizations and manufacturers. ILP Founder Shawn Miller leverages professional journalism with new media technologies and social networking to improve your exposure and the return on investment for your sponsors.
To meet the media relations needs of your program by joining Team ILP, contact Shawn at 541-510-3663 or Shawn@InsideLinePromotions.com. For more information on Inside Line Promotions, visit http://www.InsideLinePromotions.com.
---
Article Credit: Inside Line Promotions
Submitted By: Shawn Miller
Back to News